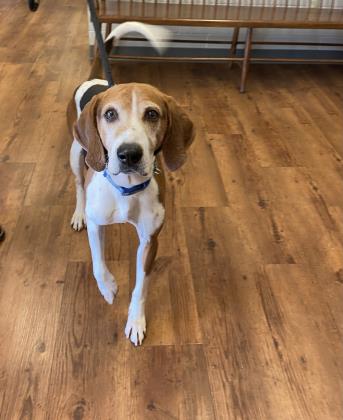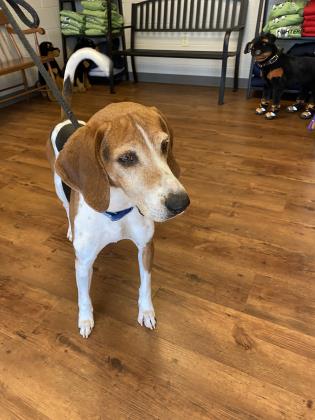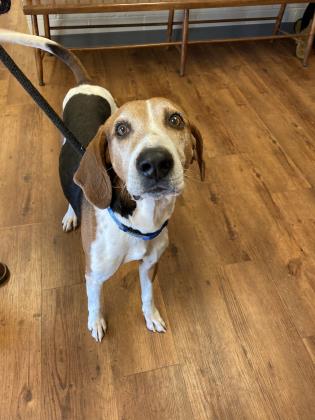 I'm Duff! If you listen real close, you might hear me say my name. D-U-U-U-F-F! Well, maybe you'll have to use your imagination a little! It's a good, old Scottish name and I want everyone to hear it! D-U-U-U-F-F!
I was transferred into this shelter from a very crowded shelter not too far from here. Nobody was interested in meeting me there, and the good folks who take care of us thought I might find a home here in Adams County. So far, that hasn't happened, and I'm so worried that I'll be here forever!
One of the volunteers has been working with me, and trying to teach me to walk better on a leash. I'm doing pretty good, but it's so hard to stay focused! It is the best part of my day when she comes in and takes me for a walk, and I just get so excited! I yell my name as loud as I can, just to let people know I'm here.
A nice lady came to meet me last week, but I wasn't very friendly to her, so she didn't offer to take me home. I was too busy sniffing everything in the office, and I pretty much ignored her. We even went into a special room so we could get to know each other, but I just barked at the door. It didn't occur to me until after she was gone, but that was very rude of me, and I'm sorry!
So here's a thought – when you come in to meet me, let's go outside to the play yard! I'll still be very busy sniffing because well – I'm a hound dog and that's what we do!
I do like other dogs and I love to play, so if you already have a dog at your home, bring him along so we can meet. I think I will like kids, too, but only the bigger ones. I'm a big guy and I would probably run over a little one when I was playing!
I will need some training in leash walking and basic manners, but I'm a great dog and I'll learn fast. Here at the shelter, I hold my pee and poop until the girls let me go outside. I will try to do that in my new home, but I might need reminders at the beginning. I just need to find a hound dog lover who is willing to give me a chance!
You say you're a hound dog lover? And you've been out there all this time looking for just the right companion? Well, what about me? If you already have an approved application on file at the shelter, give them a call. One of the girls will set up a time for you and your family to come in and hang out with me. If you haven't done an application yet, what in the world are you waiting for? You can find the application on the shelter website.
I hope I find my forever home really soon. I absolutely love the girls here, and they've been so nice to me, but gosh, it's just not the same as having a home of my own. If you come in and meet me, and we think we are a perfect match, I can go home with you! OK?
I'm a pretty big boy, so I think it would be better if I had a home without wee little kids. I might accidentally hurt one of them and that would make me feel terrible! Older kids would probably be OK, but they would need to be respectful and kind to me – I've been through a lot!
If you're reading this and you think I would be a good fit for your family, and if you can promise to love me and treat me like a member of your family, submit an application for my adoption. Once it's approved, you can come in and meet me. If we're compatible, maybe I can go to your house?