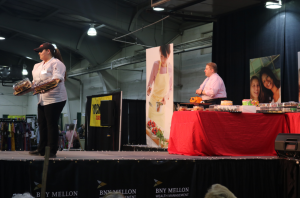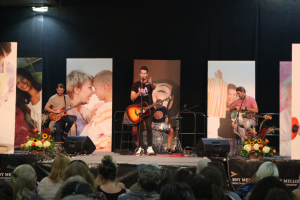 The 2018 Women's Show featured


amazing entertainment including…
All features on the stage and the theatre are included in the admission cost.
Schedules are subject to change.
If you are interested in performance opportunities at the
2019 Women's Show,
please send an email to bwilson@forevermediainc.com.
YMCA of York and York County
POUND
POUND is the world's first cardio jam session inspired by infectious, energizing, and sweat-dripping fun of playing the drums.  It is designed for all fitness levels and utilizes Ripstix (lightly weighted drumsticks engineered specifically for exercising. Observe the demonstration and join in the fun onstage!  
Flavors of Fall – Cooking Demonstration
As the temperatures become cooler, your diet is one of the greatest defenses against colds and other common fall illnesses. Strengthen your immune system by consuming nutrient-rich foods with healing and immune-boosting qualities. Weis Dietitians, Erin and Lyndi, will show you how to make nourishing chicken noodle soup and family friendly pumpkin pie dip! 
Janelle Stelson, WGAL News Personality
The recipient of several Associated Press awards for reporting, Janelle Stelson joined WGAL in 1997. Her broadcasting experience includes covering stories both nationally and internationally. 
devoN Nickoles, Local Country Artist
devoN began making music at the age of just 14 when she recorded her first CD in the old Beach Boys studio in LA with Marty Rifkin and has never looked back. Over the past few years, she has performed at CMA Fest in Nashville and opened for artists including Craig Campbell, Trace Adkins, Jacob Davis, Joe Nichols, and more all while her single "Lights" was being played on numerous radio stations across the country. 
Weis Markets
Sweet or Treat, A Modern Look at Traditional Holiday Treats and Eats – Bakery Demonstration 
Join Andy Lookenbill, Weis Markets Bakery Specialist, who will be teaming up with Sara Gohn, Bakery Manager, for an insightful bakery demonstration! They will cover and demonstrate how Weis Markets can help take your favorite treats from tailgating to New Year's and give them a creative and easy makeover for your busy life! They will help you get the most out of the holidays during this hectic time of year! 
UPMC Pinnacle, Are You Healthier Than a 5th Grader?
Come on down!  Audience members can test their knowledge on a variety of health and wellness topics for a chance to win prizes.
Russell Dickerson, Nashville Recording Artist 
Russell Dickerson, a newcomer to country radio, is no stranger to hit singles. He scored his first #1 earlier this year with the title track to his second studio album, "Yours". Russell is now climbing the charts with his follow-up, "Blue Tacoma". Dickerson carries an impressive list of touring partners which includes Canaan Smith, Thomas Rhett, Billy Currington, Lady A, and more. 
Dutch Apple Dinner Theatre
The performance will feature selections from their current production, Sister Act, (which runs through November 10th) as well as a preview of future productions. Be sure to stop by the Dutch Apple Dinner Theatre booth for your chance to win tickets for dinner and a show! 
Jacqui LeBeau
Messages from the Other Side!
Do you yearn to hear from a family member or close friend who recently passed? Do you think you are getting signs and messages from loved ones?
In this amazing presentation, Jacqui LeBeau, a Psychic Medium and Animal Communicator will not only bring you messages from your deceased loved ones, but will also show you how to discover your own innate intuitive abilities and fine-tune your connection to the Other Side. You'll learn the different forms of communication and signs that your loved ones are sending to you. Plus, Jacqui will include some astounding demonstrations of live readings with messages for some of the audience members. 
Edward Jones
Bob Halbert
Come enjoy an informational presentation on Five Money Questions for Women with Bob Halbert, a Certified Retirement Planning Specialist!
BNY Mellon Wealth Management – Andy Otto
Money and Empowerment
Women are the survivors of their marriages and their spouses and are disproportionately affected by long term investment and financial decision making. Financial institutions noticed trends & increasing impact of women in corporate leadership and small business; they studied attitudes, behaviors more closely. Most recent studies indicate that women exhibit better investment behaviors than men and yield better results. The data reflects an openness in women to the self-improvement needed to reach financial goals.  Learning is easier now with online learning, mobile tools. Creating a plan is key. The core elements of the planning we do with executives and business owners are utilized in every financial plan.
Dazzling Gems Dance Company
The girls of Dazzling Gems  Dance Company will be performing many dances from various dance genres including ballet, jazz, modern, lyrical, and pointe!
Point Blank Defense
Gary Smith, NRA Instructor
Take in a discussion about the increase of personal attack situations while learning to increase your personal awareness and preparedness. Also educate yourself on handgun safety as a responsible firearm owner and how to choose the right firearm. 
Allyson & Adele: Psy-Twins
Between Two Worlds
Born psychic identical twins, Allyson and Adele were selected by The Washington Post as the "best professional psychics in the Mid-Atlantic." They will demonstrate their ability to bring through names of loved ones who have crossed over, deliver messages, and speak about their fascinating gifts. 
Karma Farma 1000
Jeff Hardman
Jeff will explain about the discovery of the ECS system in 1992 and it's role as the most important regulatory system in our bodies. He will also explain how and why CBD oil supports to ECS and brings balance to our bodies.